Be a leader who mentors and motivates others. Gain dive knowledge, supervision abilities, and become a role model to divers around the world.
Description
Share your passion for scuba diving by becoming a PADI Divemaster. As a divemaster you'll supervise scuba diving activities and assist with scuba classes. PADI Divemaster is the first step in your diving career. 
Internship
Speak to us about the opportunity of completing your Divemaster qualification whilst working as an intern at our dive centre. Our internships provide an excellent opportunity to not only work towards your Divemaster certification but gain first hand experience on the inner workings of a dive centre.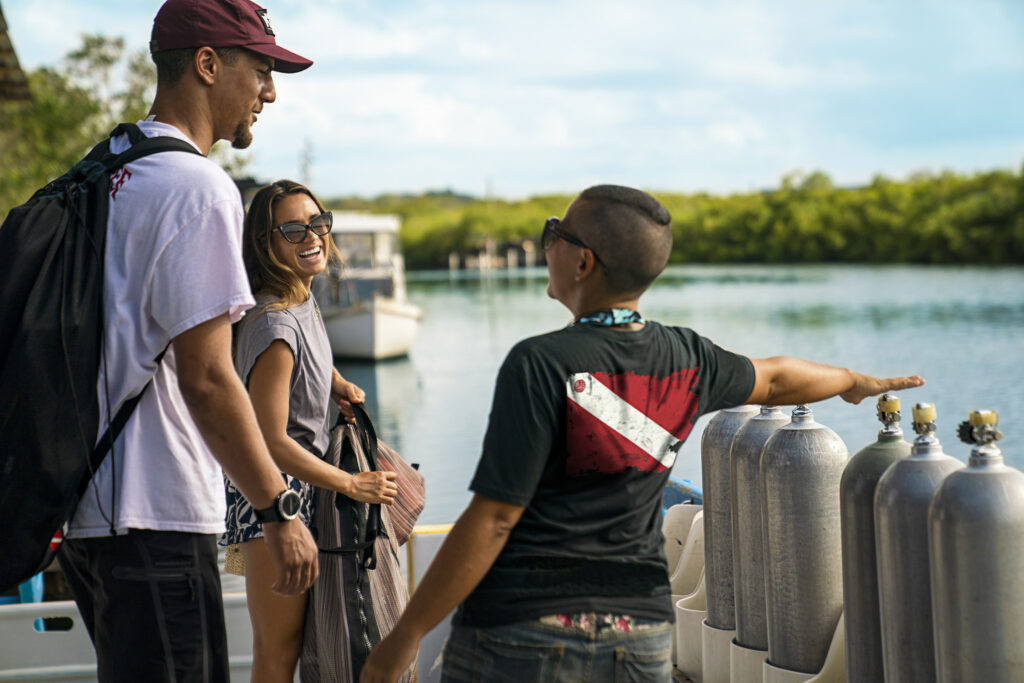 Ways to become a PADI Divemaster including the Divemaster Internship
There are several different ways you can become a Divemaster. There are pro's and con's to each method and the right option depends on a number of factors including how much time you have as well as your motivation to become a Divemaster i.e. are you mainly looking to improve your diving skills or are you looking at diving professionally. It is important to note that no matter which option you choose every successful candidate will be trained to meet all of the requirements as per the PADI Divemaster curriculum;
The fully paid option. Mainly designed for those divers that are looking at improving their own diving and taking their skills to the next level, the fully paid option is a course that lasts for around 2 weeks. This option focuses on training you on the skills and knowledge that you are required to have in order to become a PADI  Divemaster in a shorter period of time. The downside to this approach is the cost, but mainly it is the lack of real customer interaction during your training; an essential part for anybody looking to work professionally as a Divemaster. This option is best suited to those with limited time and looking to become a Divemaster mainly for their own growth and enjoyment, rather than as an entry into the professional world of scuba diving.
The half and half option.  For those looking at potentially working professionally as a Divemaster but with limited time, the half and half option is a good way to achieve your aims. Taking around a month to complete this option includes more time interacting and diving with real customers. The extra two weeks provides time to get real first hand experience dealing with customers. During this course you'll typically be required to commit to work for the dive centre for 1-1.5 months as a full time member of staff. This means not only will you get trained to be a Divemaster, you'll meet real customers, join real customers on dives and join real dive courses that are taking place. This is a fairly flexible option with the price and time commitment required tailored to each candidate, to suit their budget, time commitment and goals.
The PADI Divemaster Internship. This is a true fully fledged internship. In short you will work at our dive centre for 3 months full time. During this time you'll complete the full PADI Divemaster course, and spends lots of time getting hands on experience on what it's like to actually work as a Divemaster, giving you a great foundation for your future career as a PADI Professional. What's more this is the cheapest option. 
Being a PADI Divemaster Intern with Nautilus Scuba Diving Centre
No matter which option you take at Nautilus Scuba Diving Centre we will work with you to ensure that you receive the best possible training and learn to become a Divemaster in a way that suits your budget, time and aspirations. But what does it mean to be a Divemaster Intern at Nautilus Scuba Diving Centre?
Well first of all we understand what it means to be an 'intern'. To us an intern is a fully fledged member of our team, treated like every other staff member. You'll be expected to work hard and be professional but like any good employer we'll treat you with respect and dignity. The tasks you'll be assigned are the same as everybody else with the relevant training and supervision provided.
Secondly if you'll be working for Nautilus Scuba Diving Centre as a member of our team, then why would we charge you money for that; the simple answer is we don't. That is why for our PADI Divemaster Internship the arrangement is very simple; you work with us for 3 months and we train you to be a great Divemaster. The only costs to you are the PADI fee's associated with become a Divemaster; this is the elearning course and crew pack as well as the PADI application fee upon completion of your Divemaster course. As a 5 Star Padi Dive Centre we receive a larger discount on the PADI elearning fees and the cost which we pay is the cost that you pay, with no mark-up from us.
The last benefit that we can provide, subject to availability, is free accommodation during your internship. Few other dive centre's provide any accommodation, but at Nautilus Scuba Diving Centre we look to provide this at no additional cost. Our accommodation is clean and comfortable with air conditioning and great location.
Who can start an intership with Nautilus Scuba Diving Centre?
Our Divemaster Internship is suject to availibility, but apart from that it is open to anyone who wishes to become a PADI Divemaster and meets the PADI requirements; which in essence means that you are a Rescue Diver, with a valid First Aid certificate, and have completed at least 40 logged dives. 
For those who do not meet the PADI requirements to start the course, maybe your Advanced or just Open Water certified, don't worry, we'll work with you to get you there as part of your Divemaster course. This could mean providing additional course training or just more dives. We will put together a highly competitive package to get your Divemaster ready before your embark on your PADI Divemaster course.
The PADI Divemaster course teaches you to be a leader and take charge of dive activities. Through knowledge development sessions, waterskills exercises and workshops, and hands-on practical assessment, you develop the skills to organize and direct a variety of scuba diving activities. Topics and practical workshops include:
The role and characteristics of the PADI Divemaster
Supervising dive activities and assisting with student divers
Diver safety and risk management
Divemaster conducted programs and specialized skills
Business of diving and your career
Awareness of the dive environment
Dive setup and management
Mapping an open water site
Conducting dive briefings
Organizing a search and recovery project and a deep dive
Conducting a scuba review and skin diver course
Assisting with Discover Scuba Diving and leading Discover Local Diving programs
Your instructor may also offer the PADI Deep Diver and Search and Recovery Diver specialty diver courses along with your divemaster training to help you meet all requirements and to broaden your abilities.
Prerequisites & Requirements
Age Requirement
18 years or older
Course Prerequisites
Rescue Diver, 40 logged dives, CPR and First Aid certification within 24 months, medical clearance to dive
Time Commitment
Approximately 50 hours
Equipment
As a dive professional, you'll want to have all your basic scuba equipment, including a dive computer, a dive knife, and at least two surface signaling devices. During practical skills exercises, like underwater mapping and search and recovery, you'll use a compass, floats, marker buoys, lift bags and slates. Your PADI Instructor may suggest additional gear that will be useful throughout your diving career.