Popular Dive Sites in Cyprus
There are many exciting dive sites in Cyprus to explore. Nautilus is situated in Protaras which is an ideal location for ease of access to some of the top sites.
Below are some of the key dive sites that we regularly visit.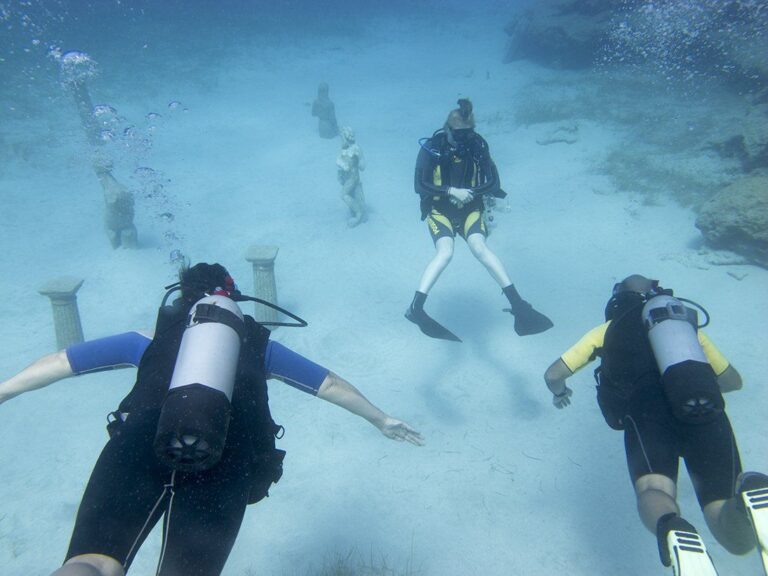 Very easy entry and a nice little bay with swimming pool characteristics. This site is ideal check dives and beginners to start their diving experience. In the calm and crystal clear water you will see amphoras broken into little pieces, get a chance to feed the fish and get a photo taken next to an under water statue.
This is where we conduct our:
Discover Scuba Diving Experience Programs
Open Water Divers Course Confined Water Dives & Open water Dives 1 & 2
Aptly named because of the White chapel built on the top of the cliffs at Cape Greko. Divers don their equipment outside the chapel then follow the steps down to the entry point.
The dive can be between 15 and 30 metres depending on the objective of the dive. Very popular site for divers & snorkelers and is visited by numerous party boats.
Situated by Cape Greko, 5 minutes from our dive centre. This is truly a fantastic dive passing through underwater caverns and caves. All caves have entry and exit points along with plenty of light, (No extra training or torches are necessary). Witness the rocks "breathing" as the air from inside the caves escapes on its way to the surface.
Just follow the instructions of our dive guide and you will have an awesome experience. The maximum depth is 12m and the exit through the hidden cave to the "Blow Hole" which cannot be seen unless your guide takes you through.
The Canyon is named because of the shape of the entry area within the cliff formations of Cape Greko. Once out of the canyon, you can either turn left and carry out a wall dive along the cliff face, or turn right and head towards the reef located at around a depth of 15m. Two separate dives can be carried out at this site.
Konnos Point - Cape Greko
Konnos Point – Cape Greko, also known locally as Cyclops Cave, is the most popular open water dive sites in the Cape Greko area. This site offers something to everyone from snorkelers and novice divers to experienced technical divers. With it's side wards roll or seated entry into water no deeper than 1.5m it allows even the most anxious of divers to experience a new site. Once in the clear blue waters of the Mediterranean Sea you will not be disappointed. With visibility being 20m you can get clear views of the marine life in the area. The site itself can be used to carry out enhanced diver training as it offers a rock platform from 4m to 9m and depths of 40m+ can be reached. Dragon Divers carries out a great deal of dives at this area including dives from numerous courses.